26th July 2023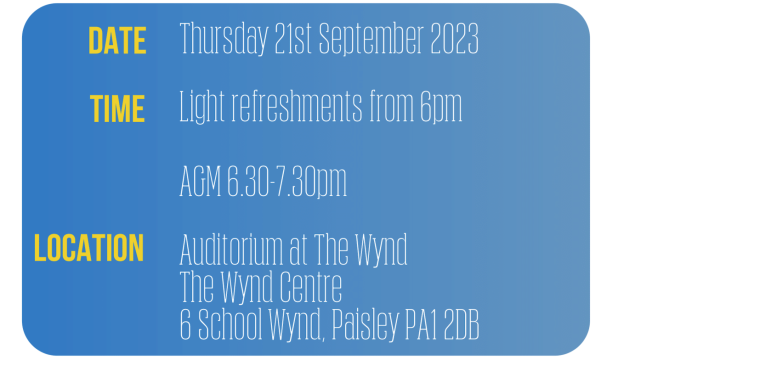 Annual General Meeting
21st of September 2023
Annual General Meeting
Thursday 21st September 6.30pm – 7.30pm
The Annual General Meeting of Renfrewshire Citizens Advice Bureau will take place on Thursday the 21st of September 2023.
Light refreshments served from 6pm - AGM 6.30pm - 7.30pm
Location: Auditorium at the Wynd, Wynd Centre, 6 School Wynd, Paisley, PA1 2DB
The meeting will consider the annual report of the bureau and the annual accounts for the financial year ended 31 March 2023 and the appointment of
auditors for the financial year to 31 March 2024.
This is an open invitation for members of the public to attend and entitles them to apply for membership of the company at the meeting.
Papers will be available in advance of the meeting.
RSVP
REN-AGM@paisleycab.casonline.org.uk
Or in writing
CEO, Renfrewshire Citizens Advice Bureau, Sherwood House, 7 Glasgow Road, Paisley PA1 3QS